1> Serush (Premium) (30 days free trial)
SEMRush is one secret weapon that you need to beat your competition with keyword research.
While most keyword research tools aim for giving you relevant keywords based on your seed keyword, SEMRush goes a step forward by helping access over what keywords your competitor site ranks.
SEMRush helps you to keyword research like any other premium tool, but what makes it special is it helps you to track the keywords your competitors are ranking.
This can be a huge benefit in competitor analysis. And, in finding the keywords that actually are sending traffic to your competitors.
2> Google Keyword Planner <Free>
The Google Keyword Planner tool is one of the most used and popular keyword research toolsout there.
The only reason for it being so popular is it's free and is directly integrated with Google AdWords.
To start using this tool you need to have an AdWords account (which you can create one for free).
Features: The biggest feature of the Keyword Planner tool is the deep information it offers on Google (the largest search engine).
Limitations: In some ways, that's also a limitation. If you want to know how your site or a given keyword is doing on other search engines, you won't get it here.
Pricing: Free to use.
The Keyword Planner tool is a good, basic tool for the early stages of a website's SEO.
This my favorite free tool, but if you need more detailed and competitive analysis, I would recommend going for one of the advanced tools that I have listed below.
3> Long Tail Pro (Premium)
Here comes my most favorite and powerful keyword research tool. Long tail Keyword is a premium tool for all the good reasons.
Many SEOs (including me) believe that LTP helps us find keywords that could never be discoverable with Google keyword planner.
How it works:
After downloading your copy from here, you have to allow it to access your Google adwords account so that it can find the best keywords from it.
Then you start a new keyword research project with any name.
4> Ahrefs Keyword Explorer tool
Ahrefs is one of the most popular keyword tool out there.
What I really like about them is extensive detail including the keyword difficulty. Ahrefs uses clickstream data to also show how many clicks you will get from the search engine. This is very useful after knowledge graph integration, as many keywords may have huge traffic but they hardly get any clicks from search engine. Reason being, they get answers directly from the Google search result. Example of one such query is: "birthdate of any celebrity"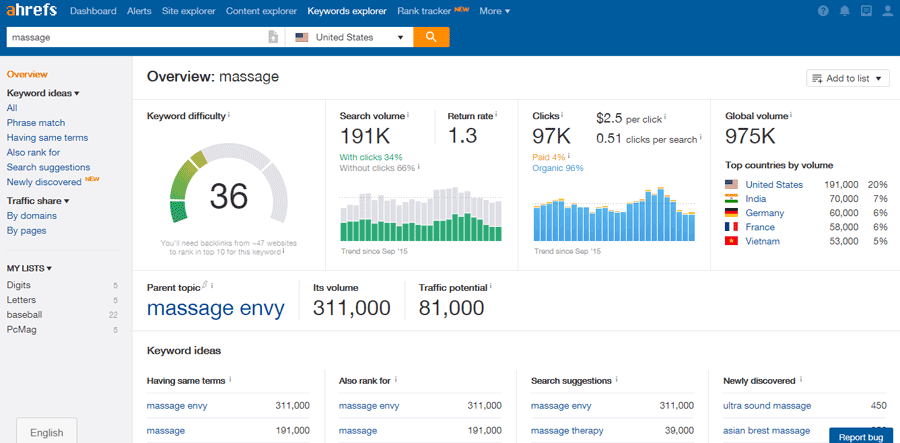 Another thing which makes Ahrefs Keyword research tool stand out is the great UI & the amount of data they provide. You can also create a list of keywords to target directly from Ahrefs dashboard. You don't need to use excel & this is a huge time saving.
5> KWFinder (Freemium)
KWfinder is a tool I have recently been in love with. This premium keyword research tool also has a free version that is quite good in its job.
Read full KWFinder review with detailed tutorial and 30% discount.
How it works:
Just enter the seed keywords and select the country and language you want to target your related keywords.
It calculates the long tail keywords that have a relatively less competition and are easier to rank.
KWfinder also shows an "interest over time" graph that tells you the popularity of your long tail keyword over time (from 2004 till date).
Additionally, KWfinder shows the top sites that rank for the given term along with their social metrics.
In my example, I wanted to create a niche site on "dog grooming" so I entered my seed keyword "dog grooming" in the search bar. I set United States as my targeted country and English as the preferred language.
Instantly, I got some of the keywords that have quite low competition.
"Mobile dog grooming" for example has a high rising trend as is shown on the right side. It has decent searches (8100 in US alone which could increase globally) and a low SEO score of 20.
You can further dig in using this keyword as a seed keyword to find more hidden treasures.
Please follow and like us: