For any WordPress blog, this plugin is a lifesaver for removing broken links and fixing redirections and is very handy when you are Cleaning up your WordPress site. This plugin finds all broken and redirected links and gives you lots of options to fix them.
Broken Link Checker WordPress Plugin is the most essential plugin for SEO, When a user clicks on any link on your site and when your site shows "404 page not found" error to the user, then it may be a bad user experience for the user. As well as the negative impact of SEO on your website.
What are broken links?
Broken links are such a links to your site, which are not linked to any page. We call these links "dead link" and these links show "404 page not found" error.
When you link to another website in your post, but later they do not remain or have been deleted. Later, these links create broken links Issue on your site and when a visitor clicks on that link, they get 404 page not found.
But this does not just impact users. When search engine bots  find a broken link, they also get a 404 status code implying that the page does not exist. From an SEO point of view, these broken links (i.e., dead links) have a negative impact on your website.
There are many new bloggers who are struggling with these broken links, so in this articles we will tell you to and fix dead link via Broken Link Checker WordPress Plugin.
Well, aside from linking to a page that has been removed, if you are a popular blog that gets a lot of comments, you need to be careful. The comments also contain links. If your site has been around for a while, and you have gotten lots of comments, chances are you have a lot of broken links to websites that no longer exist.
How to find Broken Links in a Website using Broken Link Checker WordPress Plugin
'Broken Link Checker WordPress Plugin' is the best plugin to check broken links on WordPress site. This helps you find all broken links on your blog.This WP plugin checks all URLs on your WordPress blog and gives you a complete report of the broken and redirected links.
How To Use Broken Link Checker WordPress Plugin
Download and install the plugin. <Link>
Activate the plugin and go to its setting by clicking on Tools > Broken Links.
This plugin can take some time to detect broken links and redirected links. You can also see them in the WordPress Dashboard. In the screenshot below, you can see broken links and redirect links in your site using the Broken Link Checker WordPress Plugin….
With Broken links, it also shows the status code that helps determine what to do with them.
My recommendation would be to work on updating the link instead of merely unlinking. But, if you have a massive blog with thousands of broken links, it's better to get rid of such 404 links instead of delaying it for later.
Configure settings:
To configure the settings, go to Settings > Link checker
And in the "General" tab, you can stop search engine bots from following broken links. I would highly recommend you set this one.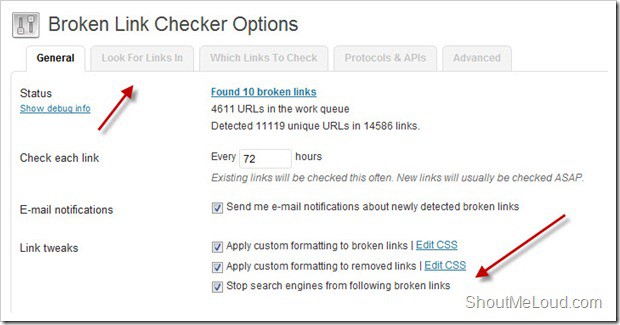 What to do after obtaining Broken Links on your site
After installing and activating this plugin, you will be able to see broken links after a few hours on your site.
I recommend that, for blog posts, update the link instead of unlink and for comments, select Links and then "Unlink" from the dropdown menu.
The most important thing about this plugin is that it detects redirection and fixes them. This free broken url link checker plugin checks all redirected links, and you can fix and update these redirected links with one click.
If you have changed domain name or permalink structures, or you have moved from blogspot to WordPress or from any other platform, then this redirect feature will be very useful to you.
The Broken Link Checker plugin checks all redirections, and with one click, you can fix and update the redirected links.
NOTE: If you use affiliate links, these will also show as redirected links, so make sure you don't fix the affiliate links.
Quick note: This plugin adds too many tables in your database which will increase your database size. So, after using this plugin, disable it and use the WP-DB Manager plugin to delete all tables created by this plugin.
Please follow and like us: